New Host! New Home!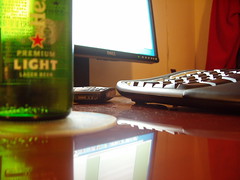 My new setup is quite comfortable. Hosting by Joyent running on a Shared Accelerator using Mongrel proxyied through Apache to run a Rails application known as SimpleLog with a green inspired simple style theme created by Myself using a new CSS framework called Blueprint.
From the time my DNS change went through it took only about an hour to get the whole thing up and running. Although while typing this I am still waiting for a Mongrel port, running Mongrel by hand works just fine.
The setup was good timing because Andrea is working late and I am still trying to wrap my head around all the upcoming decisions needed to be made about wayne.edu. I am now the Interim Web Manager in the Marketing Department. With the new position comes some new goals and I am currently putting them together and hope to bring my experience with high load shared server environments in some upcoming articles.
Eventually all my old archived articles from my blogger account will get moved over, I just need the motivation to do it.