Announcing: Introduction to User Experience Design - 10-hour video course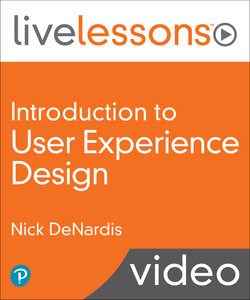 # Overview
This course is for anyone involved with the creation of websites or apps that are used by end-users. It focuses on the web page, app experience, showing various website examples that are either viewed in a browser or as screenshots, illustrating effective design and considering multiple ways to interact with a site based on different motivations.
Whether you have created digital experiences for users in the past or this is your first time, there are always insights to learn and take into your current or future roles.
# What you wil learn
Understand what makes a website/app usable
Learn common patterns that users look for
Measure the success of a site/app
Perform A/B tests to increase the usability of a site/app
Sell design or implementation changes to team members based on data
# Course audience
Web developers, UI designers, Web product managers
# Course outline
# Section 1: Learn UX Principles, Roles, and Responsibilities
Lesson 1: Understand Core Concepts of User Experience
Lesson 2: Review Principles of Interaction Design
Lesson 3: Walk Through the UX Process
Lesson 4: Discover UX Myths and Pitfalls
# Section 2: Bring the User Experience into Action
Lesson 5: Create UX Artifacts
Lesson 6: Change the User Experience
Lesson 7: Explore Case Studies
Lesson 8: Discover Visual Design Patterns
# Section 3: Testing User Experiences and Evolution of Design
Lesson 9: Conduct A/B and Multivariate Tests
Lesson 10: Make the Business Case for Changes
Lesson 11: Avoid Dark Patterns
Lesson 12: Get a Fresh Perspective
Lesson 13: Apply the Principles
# Overall thoughts
I couldn't be more excited to share these principles that I use on a daily basis with the world and in a format that walks through each in detail with examples. Each video is captioned and offers various playback speeds.
The Pearson and O'Reilly team made this possible, the process was rigorous, their quality bar is very high and I cannot thank them enough for the support and guidance throughout the process.
# Orielly free trial
Each of the sections above have a 1-minute preview and O'Reilly is currently offering a 10-day free trial (opens new window) to access everything in their entire learning library. If you're on the fence about the course or the platform, this is a perfect time dive in and try it out.
# Feedback
If there is something you would like to see covered more/less or if you have any feedback on the contents of the course or how anything is presented or covered, reach out to me on Twitter @nickdenardis (opens new window) as I'm always looking to improve and evolve the material over time.
# Subscribe for updates