Buying a house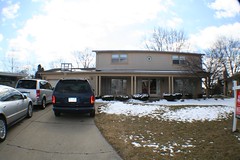 (opens new window)After months of searching we found a house that fits almost everything we were looking for at a price point we could live with. We saw over 50 houses and well over 500 online. There's alot out there and we were not looking to settle on the first we saw. We didn't know what we were getting into.
Out Criteria
Garage
Porch
Good sized basement
Nice sized backyard
Not on a busy street
Not a ton of fixing up but enough to make it our own
We also did not want to be too far from where we currently live. Since Andrea is graduating in May we don't know where she will end up working and I will be driving downtown everyday so 25 miles was our max from downtown Detroit.
Foreclosures are all over the place, ranging from pretty nice to downright disgraceful. We decided to scrap the foreclosures and found a few regular houses around where we live and ended up seeing a few. The first we liked ended up to be waaay too big and they were asking to much.
We then found this one it had everything we were looking for and it is in a court. The backyard is HUGE and the house is well taken care of. Finally a house that is unique inside and stills gives us the ability to make changes to fit our style.
After an inspection we are on our way to closing. Ill be sure to let everyone know when the house warming party is.