[Screenshots] New Twitter follower email format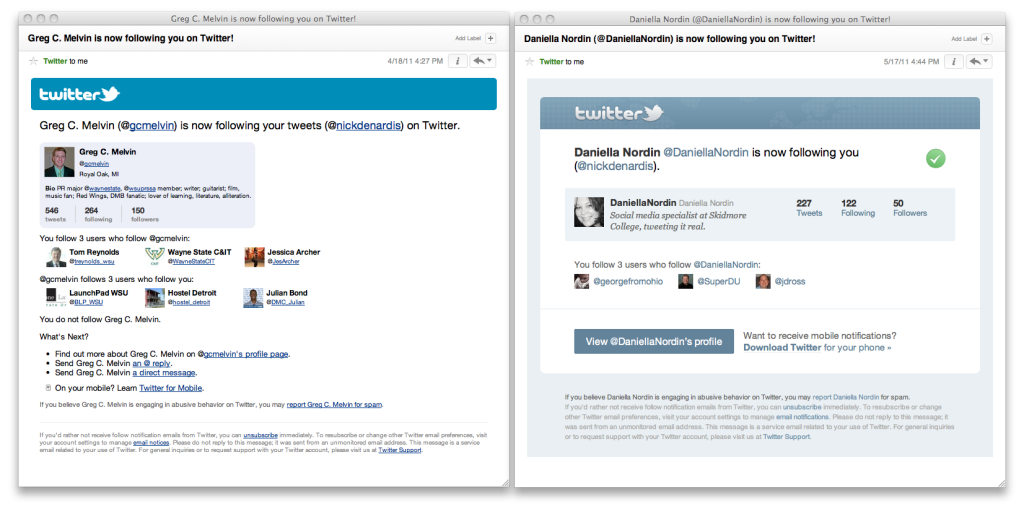 (opens new window)
Looks like Twitter (opens new window) just updated their "following you" email format. I haven't seen a reference to it on the Twitter Blog (opens new window) yet so it might be pushed out slowly. I have included screenshots of the old and new layouts above for comparison. A few things have been changing:
# Informationally
# Graphically
Much more in line with updated Twitter homepage and overall look
Not sure what that check box is doing up there in the top right (it is not clickable)
The tweets/following/followers placement is far easier to scan
The large blue "View @person's profile" is hard to miss as a next step
Underlines have been removed from all links. The link and text colors are a little too close for my comfort, I wonder how #a11y

(opens new window)

experts think about the change.
Overall I think Twitter is moving in the right direction but still has a little ways to go. I would love to see the location added back in, links being underlined and the addition of how many lists the user is on. I think the number of lists is a great indication of the impact the twitter has in their community.